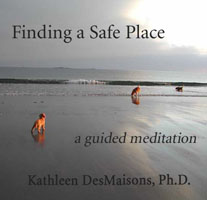 I think you will love the new, revised Safe Place CD. It has a special introduction, and is licensed to use the Kolbialka Bolero we all love so much. It is timed for 20 minutes so is ideal for your mediation time.

This CD is the the first in a series of meditation tapes. It is the ground for all the work of stilling the mind and opening your heart to healing.

Kathleen has been using this meditation with her clients for more than 25 years. She uses it as the center of her own spiritual practice. Like her food program, it is deceptively simple. Kathleen takes her listeners to a place of safety.

Use this CD over and over to train a response that is immediate and fully relaxed. Teach your deepest self to be quiet and still. Open your heart to the light and your life will change.





$12.95/$11.95
For International Orders, we use a Shipping Table.
This has a minimum shipping weight, so it is cost effective to order more than one at a time.
Click here for a Universal Currency Converter
If you wish, you can order by phone: 505-345-3737, fax: 505-345-3057
or mail: Radiant Recovery, 3805 Manchester Dr, NW, Albuquerque, NM 87107
Submit questions to Inquiries
Back to Radiant Recovery Store
Simple solutions for sugar sensitivity.
Website Content Copyright © 2007 Radiant Recovery® All Rights Reserved.