October 12, 2015


Hi {!firstname_fix}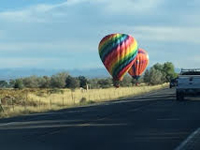 It has been balloon week all week. One morning I followed the balloons north and watched them landing in the fields. This morning I sat on the hill and watched the balloons over the field. As the sun came over the mountain, it lit up the sides of the upper balloons while the lower ones stayed dark. After about 20 minutes, all were lit and shimmering in the sky. I couldn't count how many there were. Hundreds and hundreds and they go up in waves. This morning the lower wind was traveling south so they went south for a while and then rose and caught the winds traveling north to go back near the starting field. This wind action is called the *box*. The trick is for the chase crew to be able to find the balloon and crew and get to them to roll up the balloon and get it home. The whole city stops between 6 and about 10 when everyone is tacked back in.

I am planning a yard sale for next weekend so have been doing the clutter clearing of the season. For those of you who have taken the class, you know of the process of discernment. Facing belongings that are no longer in use or no longer suited to this life, it's a serious process. Takes willingness and is not for the feint of heart. But we are getting through it. David is doing the heavy lifting, I am doing the discernment, cleaning and sorting. Nice to have a team.

I hope all you new people will sign up for the Using Resources Class. They have so much fun!

This class will begin Wednesday, October 14, 2015. Please Signup and it will take you to the registration page:



Using Radiant Resources

A free orientation for those of you who are brand new and would like to find your way around all the things we offer in the community. One of our mentors will show you the ropes. Watch for the welcoming email with a link to join the Yahoo list we use as our classroom.
Signup



This class will begin Wednesday, October 21, 2015. Please Signup and it will take you to the registration page:



Healing Grief

I have not run this class in a couple of years. But I am aware that a whole number of us have experienced loss this year. I thought it would be a good plan to share again this healing process. We will explore how to come to reconciliation about the loss of people or animals or places or things that are dear to us when we are choosing not to anesthetize ourselves. It will be about letting go, grieving deeply and letting pain wash through us without having to *do* or *take* something.
Signup




A number of you have asked me how the classes work. Check the class list page for more information on this. And please go read the questions and answers before you write to me. If you have trouble getting through the process, write the tech forum.

Be sure to visit our Radiant Recovery website and Community Forum regularly.

Warmly,
Kathleen



**********************************************************************


**Quote From Kathleen**


Doing the food will balance you, and you will know exactly what to do to heal yourself.



**********************************************************************


**Testimonial of the Week**


I haven't connected with this list for a while - in terms of sharing my progress. So I just wanted to say hello and give an update. :-) Although I have only been doing this program for about 9 1/2 weeks now and I am just tightening up step 2 before moving on to step 3, I have felt some significant progress lately. Between starting an anti-depressant and starting the program, things are looking up! I am beginning to feel back to my old self! :-) And I'm sure by the time I make it through the steps, I will be feeling even better than my old self!

This week I had an appointment with my chiropractor (who emphasizes nutrition) and he announced significant progress in my health (without knowing about SARP and the medication). He even asked me if I had lost some weight (and I haven't). But then he wanted to start talking about a plan for weight loss. I explained this program to him and told him that I wasn't focusing on weight loss, I was just taking the steps slow and steady and I would eventually lose the weight. He was very impressed that I wasn't trying to accomplish the weight loss so fast like most people do. I am grateful to this program for helping me shift my focus away from the weight loss! This experience confirmed to me that, as we start experiencing little bits of radiance, our countenance changes to the point where people wonder if we have lost weight because we are starting to "radiate," not because we really had lost any weight! I had heard someone talking about this in a post, but didn't realize that I might even experience it 2 1/2 months into the program!

Also, a friend of mine whom I hadn't seen in a few weeks and who knows I had been struggling, told me yesterday that there was more sparkle in my eyes, that they didn't look so "flat." Wow! Although I was realizing a slow change, it helped me to hear those confirmations from other people, that, yes, I am on the "up and up!" I am seeing how those glimpses of radiance can be felt as we go throughout the steps - and I love it! I can't wait for what is to come!

Thanks to you all for your help and encouragement! Now I just need to get myself ready to start step 3!

Amy



**********************************************************************


**Interesting Bits About Ranch**


The Brits held a well attended luncheon and got all excited about Ranch in the Spring. They suggested I share some more about what we do and why. We go to Salisbury because it is a lovely medieval town with an incredible cathedral and even more incredible history. It makes a nice locale for a *visit* so we are not just *working* at the seminar.

Each year I plan a series of topics to include newcomers and old-timers so everyone feels responded to. This year we will be talking more about the essence of the steps. I am giving a professional talk this next week at a conference of neuroscientists and wanted to give an overview of the steps in a way that made sense to them. I thought, *oh, nice, I will bring this to ranch as well.*

And added to that will be the discussion we did here last spring about 60 shades of Radiance and how it shapes the futures of our programs. The lovely part is how the material moves across the Atlantic and back and deepens with the cultural shaping. I am very excited for Ranch this year because I know our moving it to spring has meant that a whole number of people who couldn't come in October will be able to attend.

If you would like to attend, please come join us.



**********************************************************************


**Notes from the Forum **


All steps at once?

Oh, how well do I relate to your story! I was really clever at black coffee and delaying... wouldn't have breakfast as I felt less 'together' if I did, and the whole thing made me feel efficient.

Reading PnP, though, I began to see the biochemical cascade that held me in that pattern. No breakfast = BE cushion to protect me. And a bit of a BE puppy, I was extremely smart at manipulating that. Oh, and I also had step 12356 in 'already' so thought perfect wasn't so far off LOL ... I think it was the support here that enabled me to actually get my mind on breakfast.

So breakfast and me was not a happy experiment at first. I was a bit grumpy and probably only did it to prove it wouldn't work. Well, that's not quite true, because I recognised every word of PnP and YLD and just hoped some magic would happen.

Well, it did, despite all my doubts and me thinking I was the one person on the planet who it wouldn't help.

What are you having for breakfast today?

Mosaic




**********************************************************************


**Radiant Recovery® Store**
| | |
| --- | --- |
| There was a great thread over on the forum about the 3 CD set. I love this set so I am excited to see other people talking about it too. Patti started it off with her post: | |


Hi,

I recently was able to buy the Radiant Recovery 3 CD set on the Theory and Practice of Sugar Sensitivity. If you go to the RR store it's the one with the big bright sunflower on it.

Someone on one of the lists (I don't remember which one) had mentioned that she was listening to them in the car while driving places. And I thought that was a great idea! So that's what i've been doing this week. And I just wanted to share, if you have not purchased this CD set I highly recommend it.

I'm currently working back through the steps and working on step three. I've been in Radiant Recovery since 2000. Back then and for many years I held such enthusiasm for the science and theory of RR. It got me excited and lit up my little heart. Somewhere in this last relapse over the last year or so, I lost that enthusiasm and depression, hopelessness, and a deep grieving took its place. Then when I'd hear someone talk about RR I'd just feel like, ok, whatever. That scared me and made me even more sad.

Well, as I've been listening to these CD's my enthusiasm for recovery and the understanding of it has re-lit that spark in my heart. I thought I'd lost it forever, but it's coming back. And that is also helping my step three. I'm more stable on that step right now than I've been in the past year.

So now it's like, let's see where can I drive to, LOL! Just so I can listen to the CD's! I might have room on my ipod to load them there too, then I could listen to them on my walks.

Well, I just wanted to share this here. It feels so good to feel that enthusiasm and excitement about what is behind our sugar sensitivity once again.

Patti

Please send questions and suggestions. I love hearing from you and truly want to help you do your program better.



**********************************************************************


**Radiant Kitchen**


This is from the Radiant Recipes Cookbook.


BRAISED RED CABBAGE WITH APPLES AND PEARS
1 medium head red cabbage, shredded
1/2 c. diced onion
2 firm pears, peeled, cored and chopped into 1/2 inch dice
2 sweet apples (Delicious, Fuji, Gala), peeled, cored and
chopped into 1/2 inch dice
2 T. olive oil
2 T. raspberry vinegar*
1/2 c. unsweetened apple juice
1/4 tsp. black pepper
salt to taste
1/2 tsp. marjoram
1/2 tsp. thyme
1/2 tsp. caraway seed (optional)
In a large dutch oven, heat olive oil over medium high heat. Add onion and saute briefly, until onion becomes translucent. Add apple and pear dice and saute until fruit loses its raw appearance, 3 - 5 minutes. Add cabbage (in batches, if necessary), pepper, marjoram, thyme and optional caraway. Toss to coat cabbage with other ingredients. Quick saute until cabbage loses its raw state but is not soft. Add vinegar and juice and cover. Let steep over medium heat until all the flavors are blended, 5 - 10 minutes. Uncover; taste and adjust seasonings, if you wish less liquid in dish, reduce juices over high heat until mixture reaches desired consistency. Makes 6 - 8 servings.

Note: If raspberry vinegar is unavailable, substitute with another "fruity" vinegar, such as apple cider, golden, balsamic, sherry, or red wine vinegar. Do not use distilled white vinegar, as the taste will be too acidic [Naomi's note: never use white vinegar in cooking - but it is great for cleaning your kitchen :-)]


**********************************************************************


**Radiant Your Last Diet**


We are having the most amazing discussion about the art of vegetables. I have been struck by how many people are so resistant to getting those veggies in. It has been so fascinating to discuss what is behind that, and then to explore how to antidote veggie aversion (smile) Making it be fun is just awesome (or brilliant, depending on where you live). I realize that it is near impossible to imagine that having a conversation about vegetables with people from all over the world could be fun...but you never know what you will get in YLD.

If you would like to join us in YLD, come find us here



**********************************************************************


**Radiant Living**


We have been talking about grief in Radiant Life...How step 7 is not about puppies and rainbows, LOL (although sometimes we do go there) but really is about navigating life without amnesia or anesthesia, i.e. addiction. It is great in theory, and then, when it hits, it hurts and is unsettling. Being able to talk helps. Being able to share helps even more.

If you would like to join us in Radiant Living, come find us here



**********************************************************************


**Focus on the Steps**
Kathleen DesMaisons, Ph.D.
I get what you're saying. I read your post and it makes a lot of sense. I guess this kinda comes back to take your time and enjoy the ride. If all we are concerned with is getting to point *a* we miss the whole journey of getting there. I am quite guilty of that, I do that quite a lot with things in my life, and I believe to an extent that is why time seems to fly by for me, it is going way too fast. When I was building my business, I kept my eyes on the day of looking to when it would be built, and looking back I missed the whole building part which could've been fun. I am doing this same thing with the program, I keep looking at the day when I'm going to be really healed, and I am missing a lot of the journey. I'm glad you brought this up, it makes me aware of this, I need to flow more as you put it. I can see the need for a balance between the two.
Tom wrote this to one of the lists. I asked him if I could quote him because it really touched me. I think he is onto a key issue - spending time in the *process* of recovery rather than thinking about rushing to some end.

This means enjoying the art of step one when you are on step one. Really learning about breakfast, making things you really love, planning breakfast, finding a shake you really look forward to having, making a meal that suits you, having it on time and having it anywhere you might travel to.

Then, as you progress, you enjoy, truly enjoy the step you are on. This means thinking about journaling rather than about sugar. Or thinking about lunch rather than bingeing. Or about breakfast rather than being out of control.

This is actually the crux of the program - getting you latched on to the solution rather than swirling in the problem. Doesn't this make sense?



**********************************************************************



Thanks for reading! If you know someone who could benefit from this, feel free to forward it to them.

Not a subscriber yet? Like what you have read? Sign up to get future issues delivered straight to you:

http://www.radiantrecovery.com

Until next time!

Here are the folks who are helping put the newsletter together:

Gretel, our webmaster, puts it all together.

David runs the

Radiant Recovery® Store

.

Mosaic contributes to the Notes from the Forum column.

©2015 Kathleen DesMaisons. All rights reserved. You are free to use or transmit this article to your ezine or website as long as you leave the content unaltered, use this attribution: "By Kathleen DesMaisons, Ph.D. of Radiant Recovery

®

", and notify

kathleen@radiantrecovery.com

of the location. Please visit the Radiant Recovery

®

website at

http://www.radiantrecovery.com

for additional resources on sugar sensitivity and healing addiction.

You are getting the weekly newsletter from Radiant Recovery

®

in response to your signup. A copy of this newsletter may also be found posted on the web at

http://radiantrecovery.com/learn/newsletter/