March 21, 2016


Hi {!firstname_fix}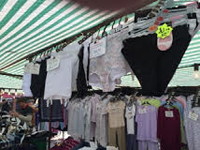 I was thinking you might like to have a wee bit of what being in the UK was like. I went over to the market in the square on Saturday and went and looked at all the things in the stalls. There was one vendor who was selling underwear. They were also selling girdles. It was astonishing to me. When I spoke to the folks from the UK, they were totally blasé and wondered why I would think anything about it, like, well why wouldn't you just get your underwear there. I am still shaking my head. This is how we learn about cultural differences.

I think we are all back and settled after Euroranch. It was an incredible experience for all of us. I think as we get home, and have some time to integrate, bits and pieces (or bits and bobs as they say in England) start making connections. Ranch is a funny thing. There is the *official* part, the agenda, the skills, and then there is the unofficial part which is the unfolding of people's stories. And when you bring together people from 8 countries and hear that the story of sugar sensitivity is the same, it gets really clear that this is about our brains rather than our culture.

When we come together in person and share the joy of being with others who know what the journey is like, it is wonderful. So many of us live with people who really do not have a clue why this all matters and why we are so committed to changing our food. And as people come back, we can see how they have changed and how *doing the food* affects lives. I think when we live it, we are too close to really get how much has shifted. When we experience it in someone else, we see it.

And soon we will be doing Ranch here in Albuquerque. It is a funny shift, usually Euroranch follows US ranch. This year US will flow from the miraculous experience that happened in Salisbury. I like having the opportunity to debrief with my notes and update and craft the agenda for here in May. As I am doing that, I realize that so much of what happens is in tiny details. The two women from Iceland registered at the last minute and came thinking that they would connect with *me* and listen to some lectures. They had no thought of the idea of connecting with the art of healing, connecting with the people who are living in recovery, and people just starting to understand. They worked hard to make the shift and reported that they loved coming.

I will get back to the classes that have been on *pause* while we were doing ranch. And we will get things started for the next classes.

This class will begin Wednesday, March 23, 2016. Please Signup and it will take you to the registration page:



Brain Chemistry: Beta Endorphin

Learn how this chemical affects your self-esteem and why your capacity to cope may be directly related to your beta endorphin levels. A fascinating look at the part of the story that is most crucial to sugar sensitivity.
Signup



This class will begin Wednesday, March 30, 2016. Please Signup and it will take you to the registration page:



Addiction Amoeba

So you have gotten the food steady and are ready to take a look at the other stuff — gambling, debt, shopping, work, money, sex, you name it. A tender look at the biochemistry of these and how doing the food is going to help all of them.
Signup



Check the class list page for more information on how the classes work. See the the Class Schedule here.

Be sure to visit our Radiant Recovery website and Community Forum regularly.

Warmly,
Kathleen



**********************************************************************


**Quote From Kathleen**


When you pay attention to your body, you are sending it a message that it is valuable. If your body feels valuable, it will talk to you more.



**********************************************************************


**Testimonial of the Week**


You're in a terrible place right now and I don't want to add to your unhappiness, but I know I've made decisions in the past that I just wouldn't have made now I'm steady.

I know I lost opportunities, closed doors and went down roads that I needn't have if I was clearer.

Before Kathleen's program, everything was too hard, or too sad, or too exhausting, or too upsetting, or too offensive, or too difficult, or too hopeless to solve.

Now, everthing seems more clear, more calm and even the crises aren't crises anymore.

My life IS difficult, but so much more manageable than the old days of addiction.

If you decide to leave or stay, you're going to need strength and perspective and a steady mind to work things out.

I'm with Kathleen. Get yourself steady for six months and things will seem clearer and all the "what ifs" won't have as much power over you.

In the meantime, doing the program concentrates your energies on YOU instead of the frustration of being with HIM. instead of focusing on the problems, focus on healing yourself. Become really strong and who knows what you'll decide from a postion of steadiness and calm.

Eliza :-)



**********************************************************************


**Interesting Bits of Science**


Vinegar Improves Insulin Sensitivity to a High-Carbohydrate Meal in Subjects With Insulin Resistance or Type 2 Diabetes

Let's go back to the idea of vinegar improving insulin sensitivity. In this study, the researchers compared two groups - one was a group of controls who were sensitive to insulin, and the other had type 2 diabetes so were insulin resistant. They gave the subjects a high carb meal of bagels and orange juice and measured the impact on their glucose levels and their insulin levels. Then they had the subjects have 20 grams of apple cider vinegar after the meal and tested what happened.

They found a significant reduction in the impact of the carbs on blood sugar. They describe an effect similar to metformin.

This is one of those intriguing little tidbits that showed up when I was looking for something else. It makes me wonder about the claims that Braggs Apple Cider Vinegar makes about the health benefits of their products.

Twenty grams of vinegar equals about .7 oz. So I am thinking the idea of having oil and vinegar salad dressing on your salad at lunch, or on your veggies at dinner can be a nice way of helping your body be less insulin resistant.

Here is the link to the citation. See what you think.





**********************************************************************


**Radiant Recovery® Store**


Olivia wrote this and I thought you would love to read it.

Can I just say how wonderful the store is?! I just placed another order last week for Restore, All-One vitamins, fish oil caps, and oatcakes. I am so excited for it to come in the mail. I love getting packages. The package always gets sent out super fast.

Slowly, over the years that I've been drifting in an out of this program, I have tried almost everything in the store and nearly everything I've tried has been fantastic. (A few things didn't work out for me: The soy milk maker turned out not to be for me. I don't like to invest time making my own of anything; just something I found out about myself. I know lots of other people love it. The subscription didn't work for me. I like having variety too much for an order to be coming once a month. I know David, who runs the store, is terrific at handling subscriptions.)

My favorites right now:



I've tried to contain myself from ordering everything at once, so that every now and then I can try something new. It's exciting for me that way.

Every once in a while I've combed all the messages on the forum and I still want my Radiant Recovery fix, so I'll go over and just peruse the store. It's like window shopping. I can think of what new thing I'll try next time.

For anyone who is afraid they can't afford this program, please don't be scared that you have to buy things at the store for it to work. I've gone long stretches on regular food from the grocery store, the free forum and lists, and a cheap notebook for a food journal. The entire program is totally do-able that way.

If you want to try something without investing a lot, I recommend the YBS journal. It's inexpensive. It lasts a couple months. It has made such a difference in my journaling. I love the little check boxes, the message from Kathleen on each page, the layout of the page. I get the one with the black cover. It's totally inconspicuous.

Ok, stepping off my soapbox now. Just had to share my enthusiasm. :)



Please send questions and suggestions. I love hearing from you and truly want to help you do your program better.



**********************************************************************


**Radiant Kitchen**


This is a delicious and elegant way to serve chicken breasts (and to get some yummy greens in, too).


STUFFED CHICKEN BREASTS
1/2 lb. fresh mushrooms
1/2 lb. fresh spinach
1 T. olive oil
1/2 c. chopped onion
2 cloves garlic, crushed
1/2 tsp. crushed oregano leaves
pinch of black pepper
1 tsp. salt (optional)
4 boneless, skinless chicken breasts
1/4 cup chicken broth
Rinse, pat dry and chop mushrooms. Set aside. Wash spinach.
Place in a saucepan. Cook covered, only with the water clinging to the leaves until barely wilted. Drain well, squeezing out excess water. Chop (should make about 1/2 cup). Set aside. In a large skillet, heat 2 T. of the oil until hot. Add onions and mushrooms. Saute until tender, about 4 minutes. Add garlic, oregano, pepper, salt and spinach. Cook and stir well for 1 minute. Set aside to cool.

Meanwhile, flatten each chicken breast by placing them between 2 sheets of wax paper or plastic wrap and pounding them with a mallet until about 1/4 inch thick. Spoon 1/4 of the mushroom/spinach mixture onto the center of each chicken breast. Roll lengthwise. Secure with toothpicks.

Place rolled chicken breasts into a 9 inch square pan. Combine chicken broth with remaining 2 T. of olive oil. Spoon over chicken. Bake uncovered, basting frequently, until chicken is tender, about 15 - 20 minutes. Sprinkle with chopped parsley before serving (optional).

Note: You can make the mushroom/spinach mixture the night before and refrigerate it. Let it come to room temperature before using. Then just start with pounding the chicken and filling, rolling and baking.


**********************************************************************


**Radiant Your Last Diet**


Well I read the chat and, after journaling for years, this chat certainly put a whole new spin to the concept (smile). I had said that my journal had evolved and it had from the beginning when I only *recorded* meals and physical feelings....to listening to the emotional stuff.

But after reading the chat it TOUCHED me at a deeper level. The thought of REALLY listening, and not the yeh, yeh stuff, made my heart heavy with sadness because I have been rushing my journaling, with *yeh,yeh,yeh*.

I will spend more time, and listen better. This is exciting. Thanks, Kathleen, between this and the Dopamine class I feel like we're on a whole new level of healing.

Bambi

Chats make a difference. (smile)

If you would like to join us in YLD, come find us here



**********************************************************************


**Radiant Living**


I have been thinking how much I am looking forward to the RL chats on Monday. It will be a way to connect, feel like I am *at home* and get grounded. Doing the food takes work when traveling, although the Dublin airport has terrific options I must admit. I think the comfort of *checking in* is a key part of what keeps my program alive.

If you would like to join us in Radiant Living, come find us here



**********************************************************************


**The Calm**
Kathleen DesMaisons, Ph.D.




We have been talking a lot on the step six list on the time after detox. Often it feels "flat" because the spiky life that comes with addiction is quiet. Drama and chaos have faded. Regular life seems a little less exciting than expected.

Sometimes people are startled by this. They define it as "boring."

Recently, someone named it THE CALM.

That is a wonderful image.

Seeking THE CALM.

I think a lot of radiance is about fostering THE CALM and then being filled with a sense of hope and optimism.

It definitely grows on you.



**********************************************************************



Thanks for reading! If you know someone who could benefit from this, feel free to forward it to them.

Not a subscriber yet? Like what you have read? Sign up to get future issues delivered straight to you:

http://www.radiantrecovery.com

Until next time!

Here are the folks who are helping put the newsletter together:

Gretel, our webmaster, puts it all together.

David runs the

Radiant Recovery® Store

.

Mosaic contributes to the Notes from the Forum column.

©2016 Kathleen DesMaisons. All rights reserved. You are free to use or transmit this article to your ezine or website as long as you leave the content unaltered, use this attribution: "By Kathleen DesMaisons, Ph.D. of Radiant Recovery

®

", and notify

kathleen@radiantrecovery.com

of the location. Please visit the Radiant Recovery

®

website at

http://www.radiantrecovery.com

for additional resources on sugar sensitivity and healing addiction.

You are getting the weekly newsletter from Radiant Recovery

®

in response to your signup. A copy of this newsletter may also be found posted on the web at

http://radiantrecovery.com/learn/newsletter/