July 4, 2016


Hi {!firstname_fix}

Its been hot in Albuquerque - way hotter than in the past. I think my brain goes on tilt when the temperature is over 90º and go on *off* when it climbs to over 100º. Been a number of off days, LOL. Mornings are cooler now. What a relief.

The dogs simply sleep through it. And then they get up at 5:15 and start zooming around. One of the dogs is an Australian heeler and she gnaws on Brody's cheeks which he doesn't particularly like. So he goes racing out the back dog door and then flies over 2 6-ft-high fences and runs to the front and taunts her by zooming around the perimeter of the fence. They go absolutely as fast as they can for probably 5 rounds, and then I call him and he jumps over the gate and comes back in. Dogs are sometimes very strange.

I have been loving doing the Blood Sugar Class. I think whenever we do a *new* class, I get excited because I am pushed to learn and relearn stuff. Activates the ole dopamine receptors, LOL.

These classes will begin Wednesday, July 6, 2016. Please Signup and it will take you to the registration page:



Radiant Step One

This is our foundation class to get you started. Learn all four parts of step 1 in a structured way. Learn how to progress through them with enjoyment. Let us support getting your program off to a fabulous start.
Signup
Using Resources for Parents



A new introductory free orientation class for parents wanting to start the program with their kids and are not quite sure where to begin. Come take this 2-week class to get started and not feel overwhelmed. Angella, who's the mentor for the parents' group, and I will be co-teaching this class. This is a new class and I think those of you who are parents or grandparents will be excited to hear an overview of the basics in this way.
Signup
Blood Sugar Class II

A skilled level class for deeper learning about the impact of blood sugar in the sugar sensitive story. We examine the factors that affect blood sugar and the options to create *steady state* more intentionally.
Signup




This class will begin Wednesday, July 13, 2016. Please Signup and it will take you to the registration page:



Using Radiant Resources

This FREE class will teach you all the ins and outs of the resources in the community. You will learn to navigate the community forum, learn how to use the resource center, check out Radiant Ranch, and learn your way around the website. You will be on your way with an invaluable resource in your pocket!
Signup




Check the class list page for more information on how the classes work. See the the Class Schedule here.

Be sure to visit our Radiant Recovery website and Community Forum regularly.

Warmly,
Kathleen



**********************************************************************


**Quote From Kathleen**


Rather than responding to problems or roadblocks with tears, you will start anticipating and solving problems.



**********************************************************************


**Testimonial of the Week**


Hi,

This has been an interesting discussion on stacking of stress in your life. This spring I had a bunch of stressful things happen, like losing my dog in the wilderness, a suspicious mammogram, a colonoscopy, having to sell my horse, etc. None of which turned out badly in the end, but it was like being pecked to death by ducks, lol!

I found myself getting really shaky and awakening in the morning feeling hopeless and depressed. Finally, I realized that my program was wonky also and I decided that was one thing I did have control over. So I really focused on breakfast for a week, then journaling, then timing, etc. I was very impressed at how my mood sprang back into place. I know this isn't the same level of stress in life as grieving a death or going thru issues with children and so on, but I was encouraged at how much it helped.

Melissa



**********************************************************************


**Radiant Recovery® Store**
Here is a testimony to the impact of your input. Last week one of our regular customers told us about a Nordic Naturals product she had tried. It is called ProDHA Eye. She said her ophthalmologist had recommended it for *dry eye* and it was having a huge impact for her. Kathleen read that email and asked me if I had sent in our Nordic order yet. I said, *No, I was doing it that afternoon.* Here is her response:

As I have gotten older, the issue of dry eye has become more of a problem. Living in New Mexico, which is DRY, DRY, makes it way worse. You know I LOVE Nordic products, let's give it a shot. I know it is a bit pricey, but when I think about how much I am spending on eye drops, this sounds way better.

Here is what Nordic Naturals says about it:


Added Zeaxanthin and FloraGLO Lutein for ultimate eye protection*


93+% true triglyceride form for optimal absorption of essential omega-3s*


Promotes healthy eye moisture and tear production*


ProDHA Eye® combines concentrated omega-3 fish oil with key nutrients that have been shown to protect the eyes and support healthy vision.* The omega-3 DHA (docosahexaenoic acid) is more concentrated in eye tissue than in any other part of the body, and is vital to the structure and function of healthy eyes. By supporting healthy inflammatory levels, omega-3s can also help alleviate many common symptoms of eye discomfort such as dryness, pain, and redness.* FloraGLO® Lutein with zeaxanthin has been added to further support the structures of the eye and provide protection against harmful ultraviolet blue light.* ProDHA Eye combines these key eye nutrients in one convenient formula.



Please send questions and suggestions. I love hearing from you and truly want to help you do your program better.



**********************************************************************


**Radiant Kitchen**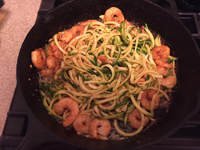 Last night I decided to make up something for dinner. I had a bag of frozen cooked shrimps from Trader Joes and 2 zucchini (courgettes) that my farmer guy had given me. Here is what I did:

I put about 3/4 cup of shrimp in a cast iron skillet and just heated them. They were frozen so a lot of water came off.

While they were heating, I got my little zoodle maker and made noodles from the zucchini and put them in a bowl. I mixed a TBS of minced garlic, a TBS of Penzey's sweet curry and a tsp of Penzy's Parisienne blend in tiny bowl, and 2 TBS of butter and 1 TBS of olive oil in another.

By now the shrimp had boiled off the water, so I put the butter/oil mix in the pan and waited till it melted and mixed it all about. Then I dumped in the seasonings and mixed it all about.

I added the zoodles and cooked it for long enough to just have them turn a little transparent. Maybe 3 min.

The whole process took maybe 10 min and it was sooooo good.




**********************************************************************


**Radiant Your Last Diet**


Chats have been awesome. I love when the discussion flows and we are all getting excited about how things are moving. Weight loss stuff use to be so grim, LOL.

The joy of what we are doing in YLD is talking about what it means to live differently. We are not stumbling from diet to diet or holiday to holiday. The world just looks different. We are not obsessed with diets any more. We know what works, we know how to do it, and we simply proceed with action.

If you would like to join us in YLD, come find us here



**********************************************************************


**Radiant Living**


Same thing is happening with Living chats. There seems to be a vibrant healing energy just burbling on up. I think something is happening for all of us.

If you would like to join us in Radiant Living, come find us here



**********************************************************************


**How Long On Each Step**
Kathleen DesMaisons, Ph.D.




We recently had a new guy on the forum ask me this question:

*Is there a recommended time frame to go through each of the steps?*

I actually had fun answering it. I realized that I have never really shared in an article the whole concept of the how men and women do the program differently. I think you would enjoy hearing this.

It is an interesting question.

I am going to answer you for *guys* because it does seem to be different.

You probably can master step one in 2 weeks.

It may take a couple of months to master step two.

But what I suggest is that you begin it, get a sense of it and go on to step 3.

Step three might take 3 months.

Step four might take a week to master.

Step five is generally set to go by the time you get to it.



Step six might be about a month.

Then for guys comes the hard part....life without addiction, dealing with feelings, knowing how to sort things, relationships, etc.

For girls, the process is very different because most of us are working on the feelings all through it, and each step takes way longer.



It also depends on your history and whether you know how to cook, and whether you are used to being coached. If you already know how to cook, and are happy about coaching, it is not difficult, nor does it take long, if you are a guy.

We also have a support list for men if you are interested.


Now, if you were a woman asking me this question, I would answer it differently.

I would say, Well, there really is not any way of knowing. It kinda depends on how ready you are. If you have had 12-step experience, it will probably be pretty straight forward because you are used to following directions and a sequence.

But if you are a *diet* expert, it may be hard because you will think you know it all and can simply just do it all in a week.

Or if you have a lot of feeling associated with your food, you may really struggle. You may start thinking about *having to give up sugar* for the *rest of your life* and start to binge on sweets to take care of the feelings.

Or if you feel your life is really stressful, you may be panicked at the idea of not having your solace and comfort.

Or if you are using a lot of sugar, it may be hard for you to get focused. You may be awash in feelings and just struggle.*

It seems that women do the feelings up front and when the feelings get settled, they proceed with the tasks.

In a very small informal sample, I noticed that those women who are on the Asperger's continuum seemed to struggle with the feelings less. They are the ones who simply did the steps. Sometimes fairly quickly.

So what is the *norm* for a woman? (smile)

Many factors.

If you are ready, if you are tired of it all and you WANT life to be different, and you are willing to simply do what we suggest...

Step one takes about a month.

Step two takes about two months to get settled enough to not fret about it.

Step three takes about four or six months to get steady.

Step four is pretty much a non issue and is functional.

Step five is functional and usually you have already done it by the time you get to it.

And Step six is a total non issue if you did the other steps. If you didn't, then it is a disaster, LOL. But it takes about six to nine months after detox to feel settled.

And Step seven sort of happens. One day you wake up and you know, simply know that a shift has taken place.

Kinda fun, isn't it.



**********************************************************************



Thanks for reading! If you know someone who could benefit from this, feel free to forward it to them.

Not a subscriber yet? Like what you have read? Sign up to get future issues delivered straight to you:

http://www.radiantrecovery.com

Until next time!

Here are the folks who are helping put the newsletter together:

Gretel, our webmaster, puts it all together.

David runs the

Radiant Recovery® Store

.

Mosaic contributes to the Notes from the Forum column.

©2016 Kathleen DesMaisons. All rights reserved. You are free to use or transmit this article to your ezine or website as long as you leave the content unaltered, use this attribution: "By Kathleen DesMaisons, Ph.D. of Radiant Recovery

®

", and notify

kathleen@radiantrecovery.com

of the location. Please visit the Radiant Recovery

®

website at

http://www.radiantrecovery.com

for additional resources on sugar sensitivity and healing addiction.

You are getting the weekly newsletter from Radiant Recovery

®

in response to your signup. A copy of this newsletter may also be found posted on the web at

http://radiantrecovery.com/learn/newsletter/