October 31, 2016


Hi {!firstname_fix}

This week is always a big week in New Mexico. While Halloween is like it is everywhere else in the country, we also have Day of the Dead celebrations where people honor their ancestors. The timing of the celebration is based on the night that falls between All Souls Day and All Saints Day, presumed to be the time when the view between the world of the living and the world of the dead is the thinnest. Here is a description of the tradition. And then here are some pictures from a sugar skull-making party.

For those not used to the tradition, it may seem ghoulish. But it is actually very much where Halloween came from. I think it actually transforms the glut of candy day into something very holy. It puts the emphasis on honoring those who came before. I am sharing all this because the longer I have been in NM, the more I have come to love the celebration.

Tomorrow morning I will start my journey over to England. This year holds a very special meaning for me. And I am going to share why even if you think I am nuts. This year I sent in an ancestry. com DNA test to find out my DNA coding. Not surprising was the fact that I am mostly Irish and Great Britain. But this 12% Scandinavian peeked in which totally surprised me and puzzled me. I called my brother and asked him what he thought. Well, I know many things about my brother, somehow I had not connected to the fact that he is an ardent history buff. He launched into a 45-minute share on the Vikings, the kings and queens and such. It was totally fascinating. And it made me go back to the genealogy work I had done. So yes, my 22nd Great Grandmother lived in Salisbury in Old Sarum. I think this explains this feeling of *going home* I get when I go. It is nice this year. And I think the connection between the Day of the Dead and honoring the ancestors is even clearer today.

And here is a gentle reminder that Halloween does NOT have to be the start of the lost time between sugar and New Years, LOL. And only the people on this list know what I mean by that. (smile)

As I mentioned last week, we are making some changes in the classes. The first of these will be how we do the step classes. Last week we decided to try an experiment and offer the step one class right in the step one group. It is working beautifully so this week we will do the same with the step two class. You won't have to sign up, you won't have to pay and you can just do the class right in the group. The Signup button below will take you to the Yahoo Step Two group page.


This class will begin Wednesday, November 2, 2016. Please Signup and it will take you to the registration page:



Step Two

Learn how to choose the right book, how to get motivated, what to include, how to know how you feel. You will confront shame and embarrassment, clear out old history and have fun in the process. There will be no charge for this class. You do have to join the Step Two group to be able to take the class.
Signup




This class will begin Wednesday, November 9, 2016. Please Signup and it will take you to the registration page:



Using Radiant Resources


This FREE class will teach you all the ins and outs of the resources in the community. You will learn to navigate the community forum, learn how to use the resource center, check out Radiant Ranch, and learn your way around the website. You will be on your way with an invaluable resource in your pocket! This class will be taught in a Yahoo Group. If you have trouble being able to manage that, please come over to the Community Forum and look for the thread on joining Yahoo. We will help you get in.
Signup




Check the class list page for more information on how the classes work. See the the Class Schedule here.

Be sure to visit our Radiant Recovery website and Community Forum regularly.

Warmly,
Kathleen



**********************************************************************


**Quote From Kathleen**


Your molecules will yearn for balance, care and healing. Instead of cravings for sugar, there will come a longing for wholeness.



**********************************************************************


**Testimonial of the Week**


I was just thinking about this the other day! I realized how many phrases I now have in my toolkit compared to when I started.

Pusher: "No really, you Must Have Some."

The Threat of GastroIntestinal Incident:
"Um, not today, tummy upset."
Then you give them the really big eyes that makes them imagine the digestive worst.

The Scary Athlete in Training:
"No really, I need to make weight for the Regionals in Womens Masters JiuJitsu."
And give them the fierce-competitor look like they're In Your Way.

The Southern Dagger:
"Oh, my, you are really making it hard on me, bless your heart"?
For those of you not in the know of the American South - you can say harsh things about, or to, another person as long as you also add, "bless their heart." The victim doesn't know whether to be pleased to be blessed, or embarrassed at what they've just been called on. You leave while they puzzle it out.

The Too Much Information:
"Really? If I have this now, will you be with me this evening when I have massive cravings triggered by the beta-endorphin priming? Will you talk me down? Or will you bring over junk food and be my binge buddy? No? well then get outta my face."
Nuff said.

The Fake Doctor:
"No really, doctor's orders."
No doctor in particular (Dr. Kathleen doesn't order us around) so that's why this is fake.

The Medical Downer:
"No thanks, I don't need any more risk factors for diabetes."
This is related to the fake doctor. Usually brings the jovial mood of sharing treats to a crashing halt. Plus it says you're making the choice and I rarely have people continue after that.

The Rude Right Back:
"Do I look like I need more candy?"
This one works best if you're still fat. If I were thin I'd go for the hyper, off-the-wall-with-sugar vibe.

The Self-Deprecating Humor:
"I've already had my lifetime servings, thanks anyway."
This also works if you're fat. It embarrasses them by calling attention to the obvious but also puts you in the "used to be a good old boy" category.

The Unsolicited Therapy Intrusion:
"Oh, I'm sorry, what feelings are being touched in you by my not having any?"
Be sincere with your expression of helping concern. Caution, they might really open up right on the show floor but it might be a teaching moment.

I could go on but it's so much fun to make your own!

Connie



**********************************************************************


**Radiant Recovery® Store**
If you are planning for Thanksgiving, it is a perfect time to have a cookbook on hand. There are some fabulous recipes for the holidays. This is the year to *plan* for a new way to celebrate. What I have found is that using these recipes, no one misses the sweet potatoes and marshmallow dish.

The year that my dad and his wife came out out for Thanksgiving, Madison was here as well. I was the primary chef. You may think this bachelor is not a cook. Think again!!

I actually used the recipes in the cookbook!

David



Please send questions and suggestions. I love hearing from you and truly want to help you do your program better.



**********************************************************************


**Radiant Kitchen**


This recipe comes from Gail. It looks so yummy I thought you would all enjoy trying it out.


Pad Thai
1/3 c oil
1 1/2 lb sliced chicken
1 T garlic
1/2 lb shrimp
Block of extra firm tofu, cubed
2 beaten eggs
1/2 c cilantro
1/2 c roasted nuts (I skip them)
5 T fish sauce (I never have it so I use tamari)
5 T lime juice
Linguine style brown rice noodles, cooked
1/2 lb snow peas
1/2 c sliced scallions
Stir fry chicken in oil 1-2 minutes. Add garlic, shrimp and tofu. Push aside food, pour eggs in middle and scramble. Add noodles, gradually fold in. Now add snow peas and scallions. Mix tamari and lime juice and pour over. Mix and serve. Garnish with cilantro and chili peppers.


**********************************************************************


**Radiant Your Last Diet**


I have gotten a few questions about YLD recently, so I thought I would reiterate them here.

Do I have to be on step 7 to join YLD?

No.In fact it is great to come join right at the beginning. YLD gives you a whole level of support you can't find anywhere else in the community.

I don't need to lose weight. Is there any point in joining?

Absolutely. The chats alone are worth the price of joining. It is where you can actively participate in shaping the vision of the community, learn about the latest trends, and just have a terrific time with other members from around the world.

There will be YLD eurochats this week. But the UK clocks have been turned back an hour. So chat would be an hour later than usual for anyone attending from the US since our clocks don't change until next week.

If you would like to join us in YLD, come find us here



**********************************************************************


**Radiant Living**


We won't be holding Radiant Life Eurochats for the next 2 weeks since almost all the people who usually come will either be getting ready for ranch or just be getting back home. But US Living Chats are a go - we look forward to seeing you.

If you would like to join us in Radiant Living, come find us here



**********************************************************************


**Josie and the Unicorn**
Kathleen DesMaisons, Ph.D.




Every year on Halloween, I repost the Josie Story. I have this picture of Josie on my desk. It totally captured who she was, her sweet and loving spirit.

This week is a special story. A number of us decided that we wanted to *convert* Halloween from a sugar orgy to a fun, fun party. We decided to have a costume party for the dogs and then take them trick or treating.

One of my friends adores my older Golden Retriever named Josie. She asked me if she could make Josie's costume. I was thrilled. She lives in Boulder so I was given measuring instructions. Neck to tail, girth, space between eyes, space around neck, wrist size, distance across chest. I got regular updates and pictures of the process.

The unicorn would have a bonnet with a horn and little ears. The hooves would be little bi-colored booties, the bonnet would have a fabulous mane to match a removable tail. The material was specially chosen. And then the artistry began. It was so much fun to hear how it was progressing.

In the middle of the process, I heard that our local boutique dog store was sponsoring a costume contest. I just knew Josie would win. She would be the princess of Albuquerque because I knew she would have such a stunning costume.

The costume arrived, carefully packed with tissue and a toilet paper roll around the horn. On Saturday, we were set to get dressed. Josie actually liked it. We had to do a little personalization with safety pins. But we got the hooves in place, got the coats attached, the tail velcroed, and the cap in place. Then she leapt on the bed and rolled. The costume survived.

Off we went to the contest. There was mighty competition. I felt smug since *those* costumes were bought and of course Josie was decked in a handmade glory. We were number 24. When I took her down the runway, she pranced and when everyone clapped, she almost took a bow.

But she did not win. Peter pan and Tinkerbell won. But I want you to see how Josie felt about that. Here she is, with her costume slightly askew. This is radiance. There is nothing more than this smile, this joy in BEING. May we all be taught by

smiles like this.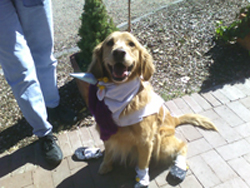 **********************************************************************



Thanks for reading! If you know someone who could benefit from this, feel free to forward it to them.

Not a subscriber yet? Like what you have read? Sign up to get future issues delivered straight to you:

http://www.radiantrecovery.com

Until next time!

Here are the folks who are helping put the newsletter together:

Gretel, our webmaster, puts it all together.

David runs the

Radiant Recovery® Store

.

Mosaic contributes to the Notes from the Forum column.

©2016 Kathleen DesMaisons. All rights reserved. You are free to use or transmit this article to your ezine or website as long as you leave the content unaltered, use this attribution: "By Kathleen DesMaisons, Ph.D. of Radiant Recovery

®

", and notify

kathleen@radiantrecovery.com

of the location. Please visit the Radiant Recovery

®

website at

http://www.radiantrecovery.com

for additional resources on sugar sensitivity and healing addiction.

You are getting the weekly newsletter from Radiant Recovery

®

in response to your signup. A copy of this newsletter may also be found posted on the web at

http://radiantrecovery.com/learn/newsletter/