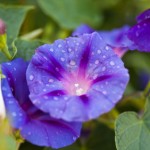 First a joy dot or two.
Coming home from a meeting at 8:00 AM, I noticed a whole bank of blue morning glories with their faces to the sun.
My housekeeper came and two hours later there was no dust, no dog hair and every shined. I love giving her money.
My muscles were sore from the workout before, but it felt nice rather than devastating.
Well, as in all regular life, I have more on the tiny goldens. I got an email from the family that adopted Miss Marti. They adore her, but their little dog decided that she wanted to be queen of the household. Miss Marti is hard wired to contest such things, so they were fighting. I will be driving down to pick the wayward tiny up this morning. We will just sort it. I have placed more than 650 dogs from tiny to gigunda…and will keep working with this. I know not to take it personally..and that can be a spiritual lesson.
I must admit that looking at life as a series of spiritual lessons can be soothing. Maybe it is just a way that I learned to *cope* early on. But it works, LOL.
Yesterday was hard. I was grumpy and angry. My kitchen sink overflowed again. The plumber was here 10 days ago and told me *no guarantees because we never know what 'people' do.* The implication was that I was throwing things down it. LOL. I, who am careful, careful about what goes down the drain! I who religiously put enzyme digestives down the drain! I called a different company.
My journal suggested that eating more would be a good idea. Such a funny thought – journey offering helpful commentary. So I made a great dinner, simple and hearty…hamburger, spinach and potato. Then put the spinach stems in the blender and made veggie soup for the dogaroos tomorrow. Funny how much better I felt.
I remembered that we try to post joy dots first, so I am going up to insert some there above tiny golden coming home <smile>.
By